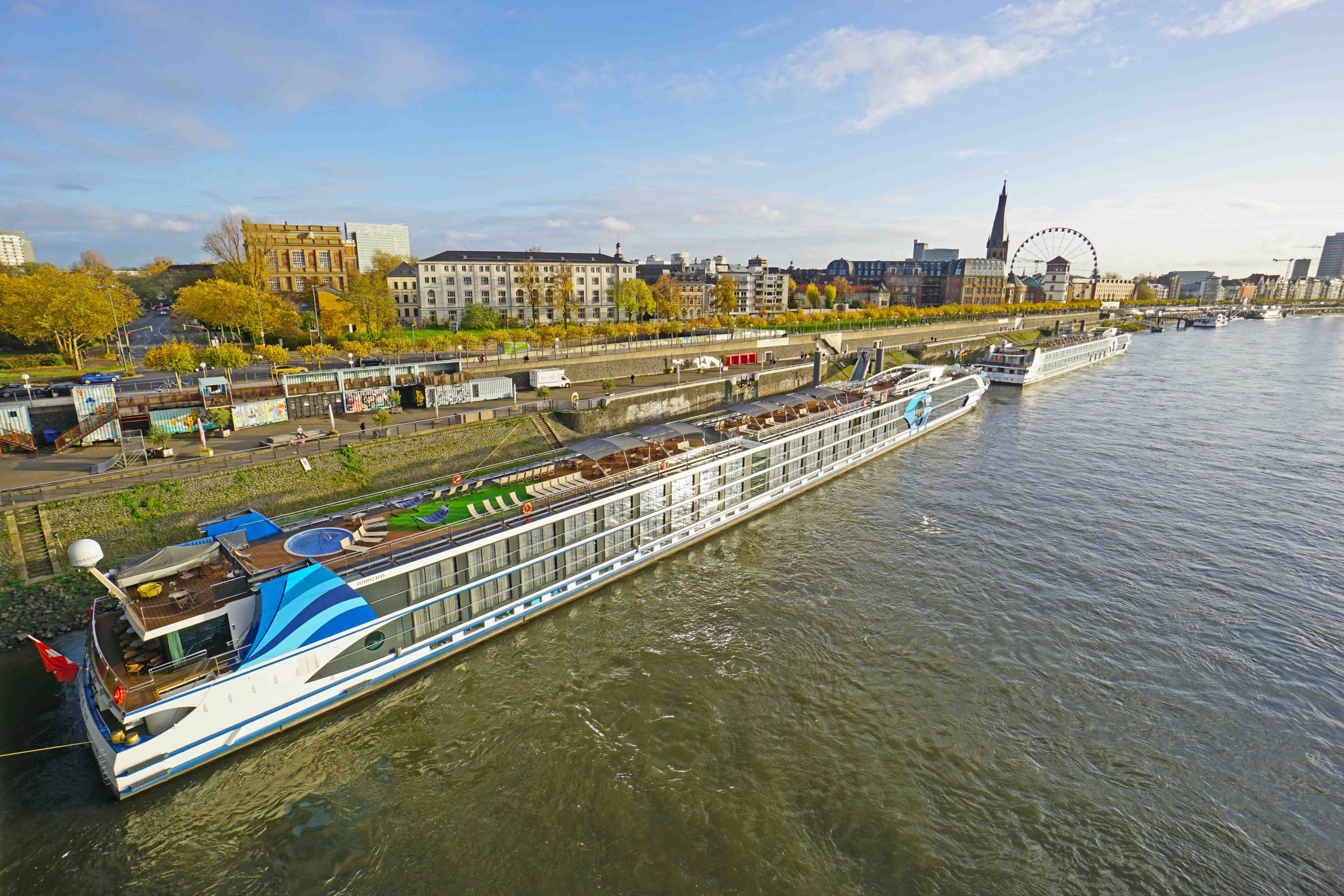 Description: MS VIVA ONE of Viva Cruises I Location: Düsseldorf I Date: November 2022 I Copyright: SHIPS@SEA
MS VIVA ONE at anchor: City Weekend on the Rhine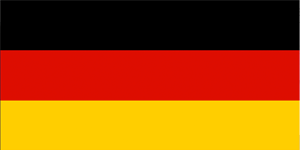 All VIVA ONE pix can be found here under Views of VIVA ONE.
Why am I doing this? That's what I ask myself as I board the new river cruise ship VIVA ONE in sunny Düsseldorf. Because I already know that this is not going to be a river cruise: I'm practically stuck there. Am I sad and grumpy? Not at all!
VIVA Cruises has come up with something special to present their newbuilt in its premiere year to as many interested people as possible during a city weekend. That's why I'm embarking for a brief visit – SHIPS@SEA and the VIVA ONE are meeting for a first get-to-know-you with candlelight, delicious food and a drink together. This can only succeed – not excluding a happy relationship later on…
VIVA ONE: Our first date
Already with the entrance of the ship atmospheric romance welcomes me. MS VIVA ONE is glamorously prepared for the approaching festivities: Christmas decorations and Christmas trees in various places on the ship announce the festive season. And that's not all: the lobby, lounge, restaurant, cabin corridors and the sun deck are discreet, imaginative and, in my opinion, extremely well designed.
One example? The lighting concept for the long cabin corridors has been imaginatively implemented with floor-level luminous strips, maritime-style wall lights, and illuminating ceiling elements. The interplay of the lights with selectively placed wall decorations consisting of pictures and mirrors conveys a very homely and pleasant feel-good factor. Here and in all the other places on the ship, I simply love to be.
The choice of cabins… the way to sleep
Cabins from five categories are spread across three of the four decks. What they all have in common is the warm furnishing style, which is so good not only for the eye of the observer. Wooden looks of the furniture, the inviting beds and again the numerous lighting elements simply convince me. There is enough space: The smallest cabins measure 15m2 and the balcony suites up to 24m2.
There is also more than enough storage space for trips during the colder season: Thick jackets and coats can be brought along with pleasure. However, you can leave your umbrella at home. In addition to rental bicycles, you can also borrow one free of charge from the travel desk. Viva has obviously carefully considered all eventualities.

Weekend relationship: the Düsseldorf special
For this weekend, VIVA ONE remains – unfortunately as I said – moored at her berth. This gives me the opportunity, in addition to the ship itself, to explore downtown Düsseldorf. The latter is worth more than a day's visit. An ideal prelude for me is the small Christmas market with the bright, giant wheel on the waterfront. From the ship's central berth, it's a wonderful way to discover the capital of North Rhine-Westphalia.
Enjoy the Moment: Hurray for the VIVA concept
I also enjoy discovering the concept of VIVA Cruises, which is new to me. It's a concept that stands out from the river cruise market. In addition to the usual inclusive services of a river cruise, such as meals, there are tempting, additional all-inclusive offerings on board: The minibar in the cabin is stocked with a few basics, and is replenished daily free of charge. Since the selection here is limited, I tend to go to the bar myself.
"Cheers" – looking over the counter.
I prefer to enjoy the drink selection with the best view and company here. The attentive crew serves all day from an extensive bar range: sparkling wine, champagne, wine, beer, long drinks, cocktails, liqueurs, spirits, soft drinks and hot beverages. All branded products, all inclusive – at any time and without limit. By the way, I didn't have to wait long for my order to be taken, nor for my drinks – the crew is accommodating, and quite responsive.
Additionally included is WiFi, tips for the crew and a personal water bottle for each travel guest. This can be filled for example for the shore excursion at two existing water taps themselves.
So after booking, the price is actually the final price of the trip. Exceptions are any personal expenses, for the on-board spa, shopping or organized shore excursions.
At the table: The way to a man's heart is through his stomach
And several times a day. And plenty of it. And even more important: Delicious! If I had to deduct 50% from my various taste experiences on board, it would still be delicious. However: I don't have to subtract anything because no matter what I taste, it tastes 100% good. The Viva ONE kitchen sets standards. In my personal case, I would go so far as to say that I have never tasted it as good on a riverboat as I do here. Chapeau!
By the way: There is neither a fixed choice of seats nor a fixed meal time. In an adequately sized time window, you freely choose when you want to go to table, which table you prefer, and even which restaurant. In addition to the superb Riverside main restaurant, the VIVA bistro at the stern offers a quick and casual option for lunch.
A ship of today with sustainability for tomorrow…
…and the day after tomorrow. With its first own new ship, VIVA Cruises has placed great emphasis on keeping its impact on the environment as low as possible. MS VIVA ONE therefore comes up with some remarkable innovations: According to its own statement, it is "river-conscious". And indeed: Of course, the straws are no longer made of plastic – no question about that. Even the personal water bottle permanently reduces the use of PET water bottles.
Besides "little things" like these, however, I also find the big sustainability bonuses on board: MS VIVA ONE has a shore power connection, which means that generators remain silent while the ship is moored. Provided the infrastructure is available on shore – it is in Düsseldorf. Thumbs up. There are also 68 solar cells on the sundeck that can feed the energy generated into the ship's electrical system, supplying the bow thruster, for example. Numerous small and large innovations in this area testify to the fact that VIVA really does act sustainably, and so the young shipping company says of itself: "We only want to leave big traces in the hearts of our guests."

SHIPS@SEA Summary
After all the positive comments about the ship and experiencing the Viva product, I wonder about the downsides. Are there any? I lean back in my lounge chair, look at the Rhine flowing by, and think for a moment. "Sure there is – there's a real drawback," it pops into my head. As nice as a city weekend aboard an elegant river cruiser is, I'd love to cast off the ropes next time and explore Europe's river landscapes with MS VIVA ONE. Or with VIVA TWO, or VIVA…..
Casting off ropes is the best way to start a journey. On whichever river. That's a promise.
Copyright of all Story-Pix: SHIPS@SEA Christoph Lowitz
ADVERTISEMENT: SHIPS@SEA traveled at the invitation of VIVA Cruises and with the support of the Global Communication Experts agency.
BACK