MS GALILEO – Corona-summer Cruise
Sailing with Variety Cruises around fabulous Greece
It is Friday, early September 2020 when I realize that I belong to a privileged minority these days: Not because I am the first to board, but because I am allowed to board the only cruise ship currently operating in the entire Mediterranean. And it doesn't look much different worldwide: almost all cruise ships have been lying up for months. Therefore it is already somewhat special to be allowed to set sail now: an one week Cyclades cruise is planned and provides well-known and less well-known islands as a destination. So I am excited to step on board for this SHIPS@SEA-research-trip for the first time after the beginning of the "Corona-Crisis".
Since the end of July, MS Galileo has been sailing again for Variety Cruises from Marina Zea towards the Cyclades after the world wide travel-shut-down. The chic marina is located not far from the turbulent Athens-Piraeus port and is a good choice as starting and finishing point for the Variety fleet. Thus the traditional shipping company has been promising a yacht cruise experience with a family environment for more than 50 years and already lives up to its promise at the time of embarkation: the three-mast motor sailer MS Galileo is surrounded by countless private yachts, which provide the appropriate visual framework here. Due to Corona, three other Variety ships are lying idle right next to our ship, once again illustrating the effects of this unprecedented crisis on the cruise industry.
But the year 2020 would not be 2020 if it were not for the fact that today would also be different than expected. During the warm welcome of the 28 passengers on board by Captain Yiannis and Cruise Director Joseph, we are told that the Cyclades are under the influence of a storm of force "8-9" for the entire duration of our voyage and that a relaxed sea voyage is therefore not possible. Instead, we first head for the Peloponnese and continue to observe the weather in order to be able to turn off towards the Cyclades if possible. Already now before departure it becomes clear that the crew is very flexible and at the same time searches – and finds – the best possible travel alternatives for the passengers as it becomes clear in the further progress of the journey. Of course, a certain disappointment can be seen in the faces of the passengers at first; however, the alternative program seems to be very tempting, so that the anticipation is immediately predominant. And one thing is apparently common to all travelers: the joy of being able to cruise again in days like these.
MS Galileo will start on time for its first short leg to Poros. Even during the first delicious dinner on board with open seating, our beautiful ship docks in front of the small old town. There were four hours time to explore the picturesque place with its pretty alleys. And although Athens is almost in sight, I already feel that I have arrived in "original Greece".
Variety Cruises offers more than one highlight per day
The following morning shows the special strengths of our "cruise yacht" by dropping anchor in front of a lonely beach bay. Guests are free to go swimming and snorkeling directly over the board stairs into the water, to go to the beach with the Zodiac, or to practice water sports by kayak or "SUP". Only a very small vessel can bring you so flexible and close to your destination.
Spontaneously, some beach visitors of us organize a beach clean-up and tidy up this small bay. A great sign of the guests and good for the sea. The waste collected today and also the day after is separated on board and later professionally disposed of on land. A big "thank you" for the assistance to Variety Cruises, which expressly promotes and supports such actions.
We continue to Nafplio, the former Greek capital, which is dominated by a 220m high and very impressive fortress. The almost 1000-step ascent to the fortress "Palamidi" is a wonderful alternative to the offered excursion to Epidaurus and provides an impressive panoramic view over Nafplio and its natural harbour.
With MS Galileo to a big variety of unique spots in Greece
Since the Cyclades weather is stormy as predicted, we continue our trip around the Peloponnese and visited further, hardly known dream bays such as the bay of Elafonissos – here "pure Caribbean feeling" comes up, only the palm trees have to be imagined. Culturally interested travelers get their money's worth with destinations like Monemvassia – known as "Gibraltar of Greece" – or Pylos with an excursion to Olympia and Itea with an excursion to Delphi and the temple of Apollo. All this even more so, since there are almost no other visitors at these world-famous tourist destinations and Galileo travelers have everything exclusively for themselves.
This exclusivity on the one hand, however, shows the big dilemma on the other: apart from Athens, we Galileo travelers are the only tourists at almost all destinations. Occasionally there are some individual tourists, but in the majority of cases the country seems to be really "tourist-free". To read it is one thing – to see and experience it is a completely different dimension, which would not have been even remotely possible a short time ago.
I'm especially impressed by the long promenade in Itea: here you find a row of neat cafés and restaurants right at the sea with a wonderful view and most of them are open – only guests are almost none. With all the beauty that surrounds the coast, it is oppressive and you can feel how "Corona" is also here. Numerous conversations with locals confirm the economically catastrophic effects that this pandemic is causing.
The catering concept of Variety Cruises is also very "successful" in this respect: instead of being overwhelmed with food, as it is the case on many cruise ships, there is a hybrid between half board and full board on board. This means that breakfast and lunch are served every day, but dinner is only served on embarkation day and farewell evening. At least planned, the ship is always moored in a port in the evening, giving guests the opportunity to try the excellent local cuisine individually. This supports the local economy, which is even more important and helpful in these times.
"Corona" & cruising with Variety Cruises
Of course, "Corona" also has an impact on life on board the "Galileo". Let me say in advance: If you are willing to be flexible and make a few concessions to previous procedures and conveniences, you will travel in a very relaxed manner – at least on a small ship like MS Galileo. But it is also clear that things are not quite as carefree and light-hearted as they were last year – unfortunately. What are the concrete effects?
First of all, before embarkation each guest has to fill out and hand in a questionnaire with health questions. This confirms that you have no corona symptoms etc. and have not been in contact with anyone who has suffered from the disease in the recent past – a current corona test is not yet required. Subsequently, fever and the oxygen saturation of the blood is measured. This procedure is carefully repeated and documented daily. Masks are mandatory in all public areas of Galileo – but also on deck if you cannot keep the distance to each other. Sitting at the restaurant table, can be done without the mask of course. But on the short way from the table to the buffet you have to put it on and take it off again each time. This has become a bit annoying and cumbersome.
All in all, you should take more time for everything and not put yourself under pressure with additional hectic – then it will work out well.
The crew adheres very strictly to the mask obligation, while with some passengers it is already " harder " and you have to notice again and again a very generous interpretation of the individual keeping of distance and mask use. Unfortunately, even the repeated announcements of the crew do not change that much. Nevertheless: most of the passengers behave prudently and try to follow the rules. I myself feel safe and secure at all times, and have avoided any situations that make me feel uncomfortable – everything is going quite well. Since the crew is almost always "masked", it is unfortunately more difficult to perceive the face of the other person completely – that doesn't appeal to me. In addition, the cabins and cabin corridors are cleaned and also disinfected several times a day. Variety Cruises also provides each passenger with their own reusable mask and there are also disinfectant dispensers available at various locations on the ship. After each Zodiac trip with the use of life jackets, or flippers and snorkeling equipment, these are also carefully disinfected. This takes place very thoroughly and the crew is generally very attentive to this issue.
Corona forces the sustainability-efforts in terms of waste avoidance of Variety Cruises to step back again: It is already (negatively) impressive how many plastic drinking water bottles are used; before, there were water dispensers with individually provided reusable bottles. Now there are many articles packed in plastic, such as jam and tea and at the coffee and tea station disposable cups. Also from this point of view I can only hope that Corona will be over very soon, because once again this is not good for the environment.

As a final cruise highlight the passage of the impressive Corinth Canal is on the program before the cruise ends in Marina Zea in the evening. The disembarkation will fortunately take place the following day after breakfast, so that the departure day starts relaxed.
SHIPS@SEA-Summary: MS Galileo is the perfect ship to discover Greece and its islands and harbors in a small circle and to land in even the smallest and most remote places – in whatever form. The passengers are assisted by a dedicated crew, which offers excellent Greek cuisine and the shipping company's promise, which is more than just an advertising slogan: "Family at sea since 1949".
MS Galileo Reisebericht von Just Travel auf deutsch
Eine sehr umfangreiche Reisereportage der Galileo-Kreuzfahrt um den Peloponnes findest Du hier von unserem Kooperationspartner Just Travel. Die Reportage bietet reichhaltige Hintergrundinformationen zu Land & Leuten und ist in Deutsch geschrieben.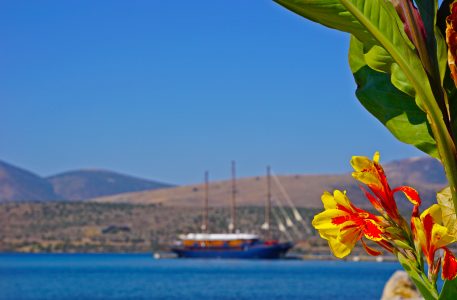 BACK